Live
NEMOPHILA Zepp Tour 2023 – "He who pursues two hares will get two hares" – Versus artists announced!
Live 2023.03.03 up
Announcing the opposing artists for the Zepp Tour in May and June!
ROTTENGRAFFTY", which will perform again last year, will be at Zepp Fukuoka on the first day, May 31.
6/2 Zepp Nagoya with "Hanayake. Survive Said The Prophet" at 6/9 Zepp Osaka Bayside, and "Lord Demon" at 6/15 KT Zepp Yokohama for the final show!
NEMOPHILA will be the backing band for Demon Kaku!
Ticket pre-order starts at 18:00 on 3/3(Fri.)!

<Outline of the performance
NEMOPHILA Zepp Tour 2023 – "He who runs after two hares will catch two hares.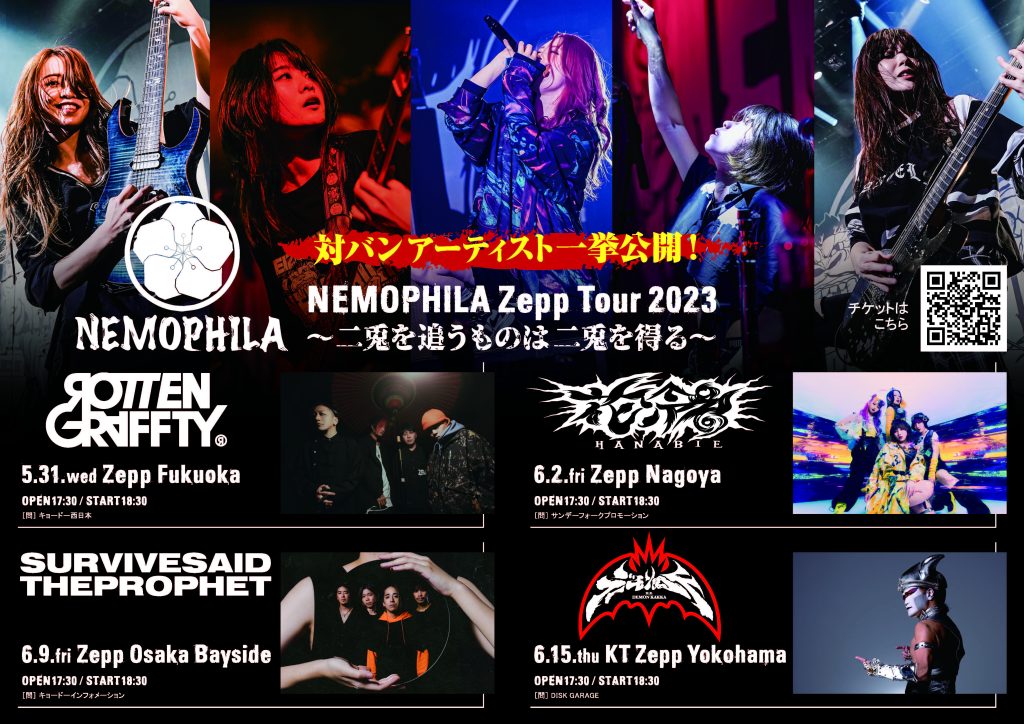 Fukuoka
Date: Wednesday, May 31, 2023 (Doors open at 17:30 / Concert begins at 18:30)
Venue: Zepp Fukuoka
Performed by:NEMOPHILA×ROTTENGRAFFTY
<Questions> KYODO NISHINIHON Co.
0570-09-2424(Weekdays and Saturdays 11:00-15:00)

Aichi, Japan
Date: June 2, 2023 (Friday) Doors open at 17:30 / Concert begins at 18:30
Venue: Zepp Nagoya
Performed by: NEMOPHILA×Hanakairoe.
<Questions> Sunday Folk Promotion
052-320-9100(All day 12:00-18:00)

Osaka
Date: June 9, 2023 (Friday) Doors open at 17:30 / Concert begins at 18:30
Venue: Zepp Osaka Bayside
Performed by:NEMOPHILA×Survive Said The Prophet
<Questions>Kyodo Information, Inc.
0570-200-888(Mon-Sat 11:00-16:00)

Kanagawa
Date: Thursday, June 15, 2023, Doors open at 17:30 / Concert begins at 18:30
Venue: KT Zepp Yokohama
Performed by:NEMOPHILA×His Excellency Damon
NEMOPHILA will be the backing band.
<Questions> DISK GARAGE
050-5533-0888 (weekdays 12:00-15:00)
———————–
Ticket prices (common to all performances)
1F standing] ¥7,500 (tax included)
2F Reserved Seats] ¥8,500 (tax included)
Drink fee not included
Charged for elementary school students and older.

Official advance tickets (Lawson Ticket lottery)
Reception URL] https://l-tike.com/nemophila/
Acceptance Period】3/3(Fri.)18:00〜3/21(Tues., Holiday) 23:59